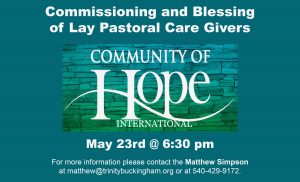 Several Lay Pastoral Care Givers have completed the Community of Hope 14-module Lay Pastoral Care Giver Training led by Matthew Simpson, Trinity's Deacon in Formation, and are being commissioned and blessed in a ceremony on Wednesday, May 23rd at 6:30 pm.
Please contact the Matthew Simpson, Program Facilitator, at matthew@trinitybuckingham.org
or at 540-429-9172 for more information.
Here are the module topics the care givers completed — Congratulations and blessings on the continuation of your journey of healing!
October 15 – Benedictine Spirituality
October 22 – Theology of Pastoral Care
October 29 – Pastoral Identity
November 5 – Listening Skills
November 12 – Prayer, Christian meditation, and Silence
November 19 – Motivational Spiritual Gifts
December 3 – The Pastoral Visit & Boundaries
December 10 – Confidentiality, First Practice Visit, and Debriefing
December 17 – Understanding Family Systems
January 7 – Grief: Coping with Loss
January 21 – Second Practice Visit
January 28 – Care for the Caregiver
February 4 – Commitment to Ministry
February 24 and/or 25 – Closing Retreat