When:
March 22, 2017 @ 7:00 pm – 8:30 pm
2017-03-22T19:00:00-04:00
2017-03-22T20:30:00-04:00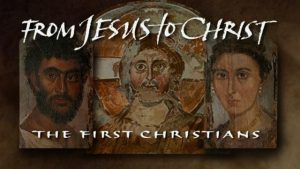 Wednesdays in Lent: March 22, 29, April 5 & 12
7:00 – 8:30 pm
And a simple soup meal at 6:15 pm
Some background on our series —
Join us for Trinity's annual Lenten Series on Science and Theology
moderated by Dr. Steven W. Mann. We will view and
discuss the four-part PBS Series titled FROM JESUS TO
CHRIST.
This documentary explores the life of Jesus and the
movement he started, challenging familiar
assumptions and conventional notions about the early
origins of Christianity.
Drawing upon new historical evidence and interviews
with the nation's leading biblical scholars, the series
looks back two thousand years to the time and place
where Jesus once lived and preached.
The film traces Jesus life, focusing on the events that
occurred after he died and on his first followers, the
men and women whose belief, conviction, and
martyrdom created a major religious movement that
transformed the Roman Empire in the space of only
three hundred years, and eventually transformed the
world.