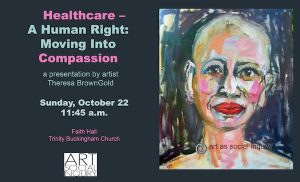 The Episcopal Partnership in Community (EPIC) hosts Healthcare — A Right: Moving Toward Compassion on Sunday, October 22 at Trinity Buckingham Church at 11:45 a.m. The presentation and follow up Q & A period will be led by performance artist Theresa BrownGold, who uses art to initiate public dialog on social issues including healthcare, immigration, violence and death and dying.
"In our politically divided culture, the topic of health care and health care insurance has become a lightening rod that adds to our sense of alienation from one another," said the Reverend Nancy Burton Dilliplane, rector of Trinity Buckingham Church. "Artist Theresa BrownGold uses art and story to help put a human face on this timely subject. We hope that through Theresa BrownGold's presentation, we will be able to explore health care as a human right, and open some creative and safe space to explore healthcare in non-partisan ways."
Theresa BrownGold is founder of the nonprofit organization Art As Social Inquiry, a culmination of her journey from being a-political, to becoming concerned about a social issue, to then claiming her voice as a social activist using art for social change. For more information please go to artassocialinquiry.org.
The EPIC consortium of local churches includes Good Shepherd Hilltown, Family of God Lutheran, Holy Nativity Wrightstown, St. Paul's Doylestown, St. Philip's New Hope, Trinity Buckingham and Trinity Solebury.
 Trinity Buckingham Church is located at 2631 Durham Road in Buckingham, PA, at the intersection of Routes 202 and 413. There is ample parking located behind the church.
#     #     #