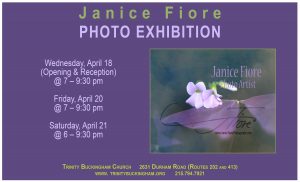 Janice Fiore's medium of digital composite photography transcends "normal" photographic boundaries by melding images, textures, and backgrounds with various blending modes, filters, and lighting effects to create totally unique compositions.  Using her photographic tools, Fiore can "paint" in different styles, transform the actual into the incredible, and intensify the visual experience in any given realm.  In her words, "Imagination's the thing"! 
Wednesday, April 18 (Opening & Reception) from 7 to 9:30 pm;
Friday, April 20 from 7 to 9:30 pm;
Saturday, April 21 from 6 to 9:30 pm. 
Saturday's exhibit will be open before, during and after the Trinity Players special event "Monologues, Melodies and Scenes" at 7 pm in the Main Sanctuary.