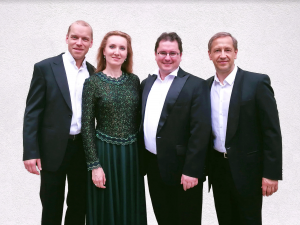 Sacred Music of Russian Orthodox Church and folk songs from Russia —
A Trinity Music & Arts Program.
LYRA, a cappella group of four professional singers from St. Petersburg, Russia, will present a concert of Russian choral music. The first part of the concert — sacred music of Russian Orthodox church — includes ancient songs to works of famous masters and little-known but remarkable Russian composers of 18 – 20 centuries. The second part of their program is made up of Russian folk songs: comic, lyric, dancing, love songs. The duration of the concert is 60 – 70 minutes.
This is a unique opportunity to share the enormous Russian musical heritage. All the singers are professionals singing in different professional choirs and opera houses of St. Petersburg. The program will be narrated by the singers. A reception will follow the performance.
LYRA will offer their CD's for purchase. If interested, please bring cash. Checks are not really usable for them.
LYRA
Vocal Ensemble
from St. Petersburg, Russia
Date: Wednesday, September 25, 2019
Time: 7:00 PM
Tickets at the Door: Adult $15 Student $10