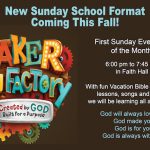 On first Sunday evenings of every month, Trinity offers fun Vacation Bible School-style lessons, songs and snacks   🙂  
We learn all about how —
God will always love you!
God made you!
God is for you!
God is always with you!
The fun starts at 6:00 pm every first Sunday and goes until 7:45 pm. All are welcome. Please join in the fun!
Trinity Buckingham Church is located at 2631 Durham Road in Buckingham, PA, at the intersection of Routes 202 and 413. There is ample parking located behind the church.  Please call the Church Office for more information — 215-794-7921.