from 4pm – 7pm with Great Food, Great Fun and Fabulous JAZZ!  
Jazz and Joe's Seventh Annual BBQ AND YOU featuring the Alan Segal Quintet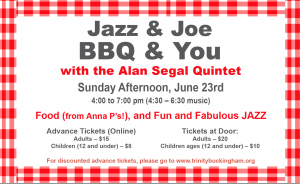 Advanced, discounted tickets are $15 for adults, $8 for children 7 to 12, childer 6 and under are free. Tickets at the door are $20 for adults, $10 for children 12 and under.
There is limited space — only 92 tickets are available! 
For discounted advance tickets, you may order by clicking the Add to Cart button below OR BY CLICKING HERE to open the printed ticket form to print and send to the Trinity Church Office by Thursday, June 20th.
Please make checks payable to: Trinity Church, Buckingham. All tickets will be held for pick up.
Mail to:
BBQ and You, Trinity Episcopal Church
2631 Durham Rd. Box 387
Buckingham, Pa 18912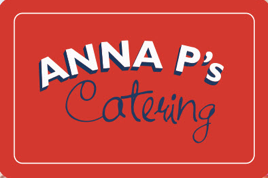 We will have hot dogs, brats, chicken, potato and green salads, fruit, garnishes a make-your-own ice cream sundae dessert bar! The fabulous chicken and salads are provided by Anna P's Catering!
The event benefits the Trinity Buckingham Music & Arts Program.
If there are tickets left before the event, tickets may also be purchased at the door (Adults $20, Children 12 and under $10).
We are looking forward to seeing you there!