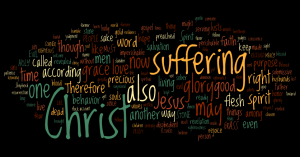 This Lent you are invited to join Matthew Simpson, Trinity's Deacon in Formation, in an exploration of the ancient problem of suffering and evil in a Christian context. 
This journey will include a look at The Book of Job, the Psalms and Lamentations, as well as historical events such as natural disasters and man-made events. The series will bring out Scriptural warrant for honest anger and faithful sorrow in our religious tradition. 
We will look at how believing in a God who was made incarnate in Jesus of Nazareth re-frames this ancient and modern problem of suffering in our world. 
The series does not seek to answer the problem of suffering and evil, but seeks to bring insight that can change the questions we have.
February 18 – Identifying the Problem and The Book of Job              
February 25 – The Book of Job and a Scriptural
Warrant for Anger Towards God
March 4 –  Natural Disasters, Holocaust, and Facing the Abusing God?       
March 11 – Incarnation: What Does Jesus Have to Say About Suffering?
March 18– Crux Est Mundi Medicina and the
Suffering God
March 25 – Incarnational Theodicy, Re-framing the Questions, and Living with Resurrection