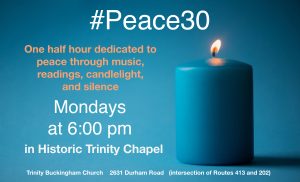 One half hour of quiet music, readings, candlelight and silence — all dedicated to peace ….
Would you like to join in this collective, multi-denominational effort to focus on peace in our families, our community, our nation, and in our world?
Trinity is launching the Weekly Vigil for Peace at the Historic Trinity Chapel — the "little church on the corner" in Buckingham at the corner of Routes 202 and 413. There is ample parking available behind the larger church accessed via Route 413.
Please feel free to call the Church Office 215-794-7921 with any questions you may have.
Welcome!
Welcome Peace!