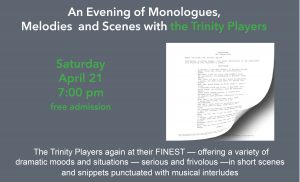 For this production, Trinity Players provide a variety of dramatic moods and situations — serious and frivolous — in short scenes and snippets punctuated with musical interludes.
The Trinity Players expand and explore the theatrical arts in worship and community outreach. Through this art form we can ponder relationships, important topics, and life in general while offering a voice and opportunity to our congregation's thespians. Past productions include Our Town by Thornton Wilder and a new adaptation of The Diary of Anne Frank by Wendy Kesselman from the original stage play by Goodrich and Hackett.
Free admission — a free will offering is requested.