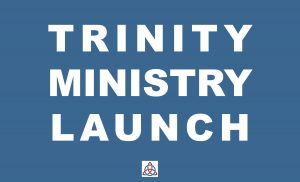 Trinity's Vestry hosted an exciting MINISTRY LAUNCH at Trinity Buckingham's June 4 Pentecost Celebration, announcing a new Trimester approach to sharing and getting involved in Trinity's many dynamic ministries — for just four months at at time, during the Three Trimesters of our Liturgical Year —
1. Pentecost  
2. Advent/Christmas/Epiphany and
3. Lent/Easter
Amid much excitement and interest, everyone was invited to discern the question:
To What Ministry Are You Called to Serve? And …
To what ministry might you be called to serve in these next four months of our Pentecost Trimester?
Each of Trinity's dynamic ministries fall into three primary Calls —
A Call to Outreach — Social Justice/Outreach, Bread Ministry, Code Blue, Community Meal, Lambertville Lunches, Doylestown Shelter, Outreach Special Projects, Rummage Sale
 A Call to Inreach — Children's Ministries, Vacation Bible School, Youth Ministry, Spiritual Formation, Parish Life/Fellowship, Pastoral Care
 A Call to Administration —Office Assistance, Communications, Finance, Stewardship & Fundraising, Property, Rentals, Historic Trinity
Trinity's Vestry invites you to take time to prayerfully consider how you might be called to serve in one of Trinity's ministries for one trimester or for an ongoing period of time. And then let us know — contact any Vestry member (click here for email addresses) or call the Church Office, or speak to Pastor Nancy or to Matthew Simpson, Trinity's Deacon in Formation.
Blessings on you and the Ministry you feel called to serve!