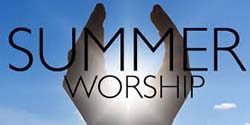 This summer from June 17th through September 9th, Trinity Buckingham will gather for worship on summer Sundays at 8:00 a.m. and at 9:30 a.m.
The 8:00 a.m. service is a quiet, spoken Eucharist.
On first Sundays of the month during the summer (July 1, August 5, September 2) the 9:30 a.m. service will be our Children of All Ages Service, a half-hour-long casual Eucharist liturgy for adults and children alike. On following Sundays, we will use the traditional Eucharistic liturgy.
Child care is available both during and after the 9:30 a.m. service.
All are welcome at both services. There is always a place for you here at Trinity.