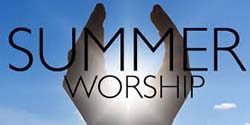 This summer from June 25th through September 3rd, Trinity Buckingham will gather for worship on summer Sundays at 8:00 a.m. and at 9:30 a.m.
The 8:00 a.m. service is a spoken Eucharist.
The 9:30 a.m. service is our Children of All Ages Service, a half-hour-long casual Eucharist liturgy for adults and children alike.
Child care is available both during and after the 9:30 a.m. service.
Following our 9:30 service, adults and teens can gather over lemonade to talk briefly about the lessons for the day, and children will have a supervised short program of their own in which they can play, do art activities, sing, snack and learn about the Animals of the Bible.
All are welcome at both services. There is always a place for you here at Trinity.