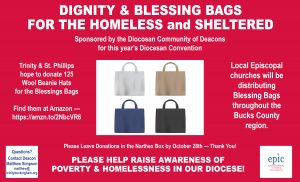 Deacons in our diocese are sponsoring a movement to fill Dignity and Blessing bags for the homeless and sheltered in our diocese during the upcoming Diocesan Convention.
Trinity Buckingham & St. Phillips, New Hope hope to donate 125 Wool Beanie Hats for the Dignity and Blessing Bags.
You can find the hats at Amazon at https://amzn.to/2NbcVR6 and are called "Blueberry Uniforms Marino Wool Beanie Hats."
You can leave them in Trinity's Church Office (Monday through Thursday 10 to 2 pm) or by the doors to the main church sanctuary through the month of October.
Local Episcopal churches will be distributing the Blessing Bags throughout the Bucks County region.
Questions? Contact Deacon Matthew Simpson at matthew@trinitybuckingham.org.
Please help raise awareness about the poverty and homelessness in Bucks County!