Trinity Buckingham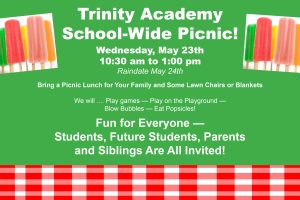 Bring a Picnic Lunch for Your Family and Some Lawn Chairs or Blankets We will …. Play Games — Play on the Playground — Blow Bubbles — Eat Popsicles! Fun for Everyone — Students, Future Students, Parents and Siblings Are All Invited!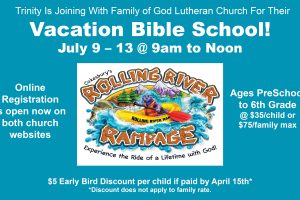 Experience the ride of a lifetime with God at ROLLING RIVER RAMPAGE, a much-loved Cokesbury Vacation Bible School (VBS) curriculum hosted by Family of God Lutheran Church (right next door to Trinity). Trinity Buckingham is joining with Family of God's VBS this year on July 9th through the 13th!  […]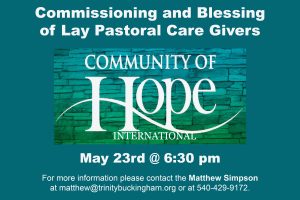 Several Lay Pastoral Care Givers have completed the Community of Hope 14-module Lay Pastoral Care Giver Training led by Matthew Simpson, Trinity's Deacon in Formation, and are being commissioned and blessed in a ceremony on Wednesday, May 23rd at 6:30 pm. Please contact the Matthew Simpson, Program Facilitator, at matthew@trinitybuckingham.org or at 540-429-9172 for more […]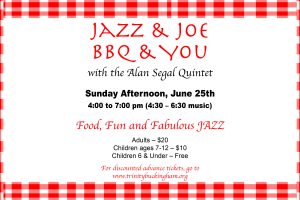 Jazz and Joe's Fifth Annual BBQ AND YOU featuring the Alan Segal Quintet — Sunday, June 24th, 4:00 – 7:00 pm (4:30 – 6:30 pm music) with Great Food, Great Fun and Fabulous JAZZ!  (and a make-your-own ice cream sundae dessert bar)! Tickets may be purchased at the door (Adults $20, Children 7-12 $10, Children Six […]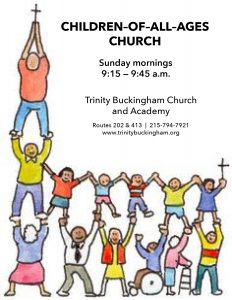 Many parents are familiar with not only the challenge of getting to church on Sunday, but with the challenge of keeping restless little ones still, or of enduring the impatience of teenagers longing to get on with the rest of their day.  In answer to these challenges, Trinity Buckingham Church is offering Children of All […]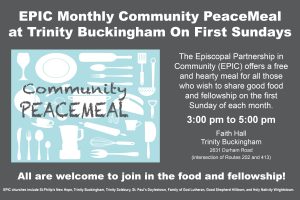 All are welcome! The local community is welcome.  No RSVP or registration is necessary. "This EPIC Community PeaceMeal is a free and hearty meal for anyone who wishes to share good food and fellowship on the first Sunday of each month," said the Rev. Dr. Nancy Burton Dilliplane, rector of Trinity Buckingham Church. "These happy and […]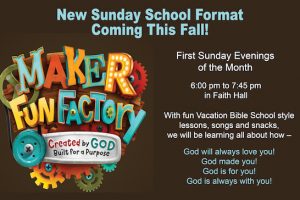 On first Sunday evenings of every month, Trinity offers fun Vacation Bible School-style lessons, songs and snacks   🙂   We learn all about how — God will always love you! God made you! God is for you! God is always with you! The fun starts at 6:00 pm every first Sunday and goes until 7:45 […]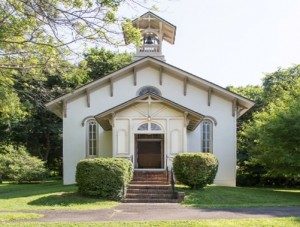 Experience one of the great world's greatest spiritual treasures.  We gather for Meditation and Centering Prayer every Tuesday and Thursday from 8-8:30 a.m. in Historic Trinity. All are welcome. You need not be a member of Trinity Buckingham or of the Christian faith to attend and participate. Centering Prayer is a simple, meditative form of prayer that, while rooted in […]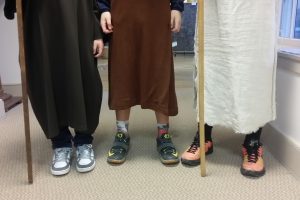 Trinity's Youth Group meets to engage in faith, fellowship, and service and fun with friends every second Sunday of the month from 7:00 to 8:30 pm. We are excited to get going and are looking forward to building a sustainable, fun, and enriching, Trinity Youth Group!  Stay tuned, much more to come! And remember, Trinity has three […]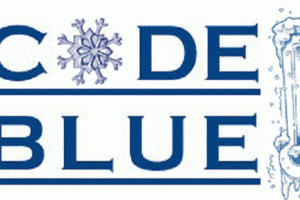 Trinity Buckingham is a Bucks County's host Code Blue site, offering shelter and food to those in need of assistance when the outside temperature is less than 26 degrees during the month of January. Code Blue is such a huge effort, it is an All-Parish Ministry! During January, we especially need food items for this […]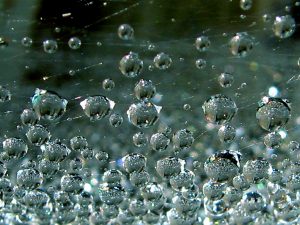 Trinity Buckingham's Tuesday Morning Fizz is held in the Library Chapel between 10:00 – 11:30 a.m.  Each week we take a look at scripture readings for the upcoming Sunday. Our Bible Study is a year-round gathering. New participants are most welcome — please join us at anytime!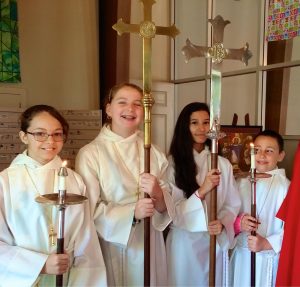 We worship God using liturgy from the Book of Common Prayer, celebrating Holy Communion at every service. 2018 Summer Sundays (June 17th through September 2nd) — 8 a.m. and 9:30 a.m. with Nursery Care offered during the 9:30 a.m. service;  First Sundays = Half-hour Children of All Ages service with Eucharist and all other Sundays […]