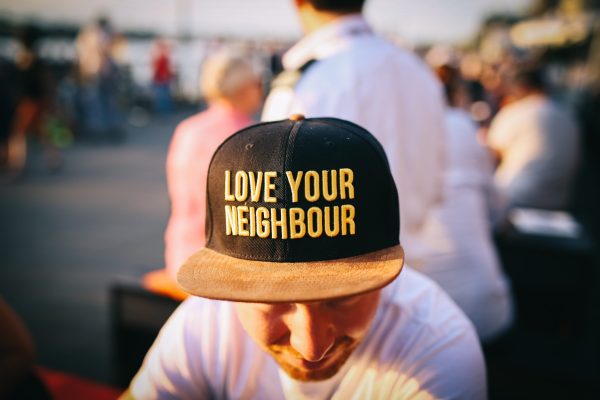 Photo by Nina Strehl on Unsplash 
Outreach at Trinity takes many forms — coins dropped in thanksgiving into blue boxes, Sunday school children making cards for veterans, meals served to our neighbors, and baskets of food delivered to our family in apartment five for Thanksgiving and Christmas.  All of these acts of love help to fulfill Christ's call to us to be servants to one another.
Here are just a few of Trinity's ministries of outreach:
Christmas Giving Trees – The trees are decorated with gift tags, each representing a wish for a Christmas gift. Church members choose a tag, purchase and wrap their gifts, and then return them to church so they can be delivered to Tabor Services and the Doylestown Family Shelter.
Christmas in July Food Drive – Trinity collects shelf stable food throughout the month of July to donate to local pantries.
Code Blue/Coalition to Shelter and Support the Homeless – From December through March area churches provide emergency shelter to our homeless neighbors. Trinity members volunteer as shelter volunteers, van drivers, and meal providers.
Community Peacemeal – On the first Sunday of the month, Trinity and other Episcopal churches together provide a delicious meal and fellowship to our neighbors. Peacemeal was originally established for our neighbors dealing with HIV/AIDS but now includes anyone who would like to enjoy a good meal and fellowship. Note: This ministry was paused during the pandemic. We hope to resume Peacemeal in the Fall of 2022.
Doylestown Family Shelter and Food Pantry/Bucks County Housing Group – Trinity shares support of Apartment Five with Doylestown Presbyterian Church. When a new family moves in, we supply them with a welcome basket of linens, cleaning supplies, toiletries and basic food items. At holiday times, food supplies for special dinners and gifts are provided.
Episcopal Church Women – The focus of this group is fellowship, fundraising and charity. Twice a year the women organize a sale of used goods. Most of the proceeds are distributed to local groups such as Habitat for Humanity, New Britain Food Pantry, Doylestown FISH, ECS, Welcoming the Stranger, Meals on Wheels and Pro-Act. Note: This ministry was paused during the pandemic. We hope to resume our rummage sales in the Fall of 2022.
Free the Girls – Along with many churches from our deanery, Trinity collects new and gently worn bras. The bras are shipped to women in Africa and the Caribbean who then start small businesses to help support themselves and their families.
United Thank Offering – UTO's mission is to expand the circle of thankful people through daily prayer, offerings and the awareness of the abundance of God's blessings. The coin-filled blue boxes are gathered twice a year and help to fund worthwhile church projects around the country.
In addition to these outreach ministries, Trinity donates the use of our building to Alcoholics Anonymous, 4H, and Education for Ministry.