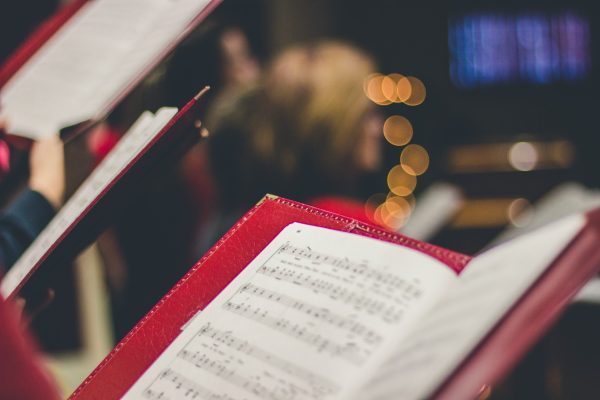 Photo by David Beale on Unsplash 
Trinity Church Choir: The choir of Trinity Church is at the center of our music ministry. From September through June, the choir supports the prayer and praise of the congregation at the 10 a.m. service. The Choir is open to all interested people. Auditions are not necessary. Although experience and music reading is helpful, the main qualifications include a willing heart and mind, a love of music, ability to collaborate and the desire to share yourself with others in order to enhance worship.
The choir rehearses most Sunday mornings at 9:15 am and occasionally on Thursday evenings.
Handbell Choir:  The Handbell Choir also enriches the 10 a.m. worship service once or twice a month, particularly during the Christmas and Easter seasons. We welcome new members. No experience is necessary, and while reading music is an asset, it is not a necessity. 
The handbells rehearse several times per month following the 10 a.m. service. 
Please contact Martha Dudich at liturgymaven@aol.com for more information about either or both musical ensembles.
Pick-up Choirs  During the summer months, our worship is enriched by occasional pick-up choirs who gather to learn an anthem at 9 a.m. on Sunday mornings for that day's 10 a.m. service. Pick-up choirs are wonderful opportunities to see what it is like to sing in a choir, to learn some new hymns, and to have fun.

Jazz & Joe:
Trinity Buckingham is very proud to support the master musicians of Jazz Sanctuary — master musicians devoted to making good jazz available throughout the PA/NJ  region through their Jazz & Joe performances, and to ensuring that music education is available to young people who are not able to afford the cost.
Jazz and Joe performances are held from September through May in Trinity Buckingham's Faith Hall, mostly on 2nd Thursdays of the month —check the Jazz Sanctuary's website at thejazzsanctuary.com to confirm.
Jazz & Joe Mission —
Playing Jazz and Joe concerts are mission-in-action for the members of Jazz Sanctuary, according to its founder, Alan Segal.
"Jazz — and the care of a devoted friend and an enormously supportive spiritual community — are what helped me recover from a life-threatening illness several years ago," says Segal. "At that time, I had a revelation — that we should bring fun, toe-tapping, hand-clapping, live jazz concerts for free to the public, and what better place than a spiritual house of worship?"