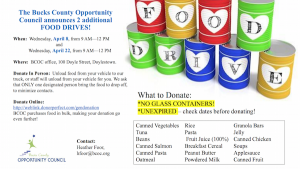 Announcement: The Bucks County Opportunity Council has scheduled 2 additional Trunk-to-Truck, No-Contact food drives this month:
April 8th and April 22nd.
Last week BCOC collected 6,000 pounds of food for their food panties — all of which has been distributed! They can use your help to stock the shelves.
Thank you!