Faith Hall Rental at Trinity Buckingham Church
2631 Durham Road (between Routes 202 & 413) in Buckingham, PA
We are very sorry that due to ongoing concerns about public health and safety presented by the pandemic, Trinity is not taking any new rentals at this time.
We look forward to offering space for your event in the future, so please continue to browse our Faith Hall page here, click here to browse our Historic Trinity Church page, and check back with us in September of 2022 via email at faithhall@trinitybuckingham.org or feel free to call the church office anytime at 215-794-7921.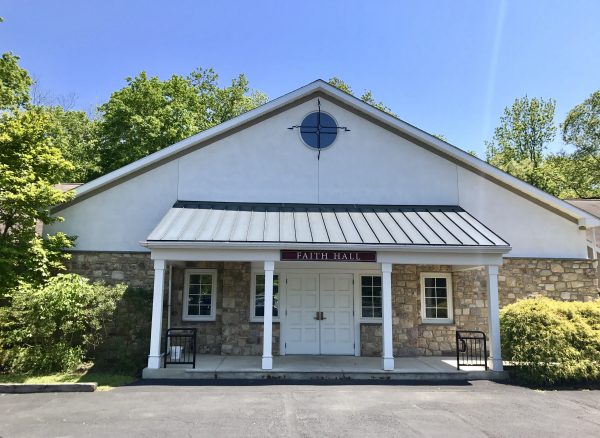 Faith Hall is an accessible, affordable setting for your perfect events — weddings, showers, baptisms, graduations, fundraisers, sweet sixteen or 60th birthday parties — featuring a beautiful and light-infused space, a convenient location, open catering, and a large, professional kitchen.
Visually Appealing Space
Faith Hall offers an open floor plan with French doors and windows opening to an expansive view of gardens and trees. The space accommodates up to 166 guests. Tables and chairs are included in the rental. Audio equipment and tableware rentals are available.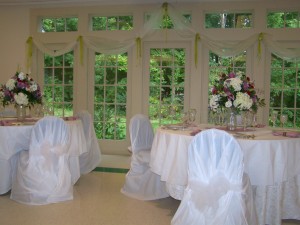 This 360 degree view gives a sense of the spaciousness and versatility of the venue:
Convenient Location
Faith Hall is located behind Trinity Buckingham Church at 2631 Durham Road in Buckingham, PA at the intersection of Routes 413 and 202,  and provides ample onsite parking. Set in beautiful Bucks County, Faith Hall is situated between New Hope, Doylestown, Warminster, Warrington, and is convenient to vineyards, entertainment, and shopping, including popular Peddler's Village.
Open Catering
For Faith Hall events, you are encouraged to use the caterer of your choice. You work with your caterer to create the party just the way you want it. You can get creative … we are flexible and accommodating.
Professional Kitchen
Faith Hall has a spacious, professional kitchen, including all necessary appliances, ample storage for beverages, food, and convenient countertop access to receiving and repackaging products.

Easy Coordination of Details
For pricing information and other details regarding Faith Hall rentals, please email faithhall@trinitybuckingham.org or call the office of Trinity Buckingham Church at 215-794-7921.