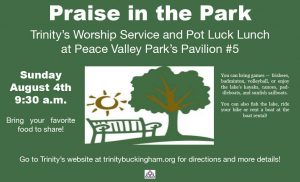 Trinity once again invites members, their families and friends to a picnic at Pavilion #5 (Lake View North area just off New Galena Road). August 4th is a one service Sunday at 10 am. A potluck lunch follows, so bring something to share: salads, lunch meat/rolls, chips, desert or beverages. 
The church will provide paper products, utensils, condiments and ice for beverages.Don't forget to bring a chair, and games to play. Bring bikes and helmets to ride on the path or rent a boat and go out on the lake. If you have any questions please let Jill Unger at jsuhcnj77@verizon. net.
Directions from the Doylestown area to Pavilion 5 at Peace Valley Park.
Drive Rt. 313 west to King Road (about 3/4 of a mile from Ferry Road intersection). Turn left onto King Road and go to Chapman Road. Turn left onto Chapman Road to New Galena Road. Turn right onto New Galena Road to the Lake View North section of the park and Pavilion #5.
Directions from Chalfont and New Britain area to Peace Valley Park.
Take Rt. 152 north to New Galena Road. Turn right onto New Galena Road which will take you right into the park at the Callowhill entrance (about 1 1/2 miles) . Once in the park drive almost all the way through the park to the Lake View North area. Pavilion #5 will be on your right. Pavilion #5 has a great view of the lake. Bring your bike and other family games. A playground is there with restrooms.