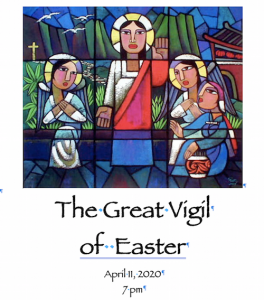 The Great Vigil 3.11.2020 covid (1)
You are invited to view the sacred DRAMA AND JOY of the Great Vigil of Easter that took place on Saturday evening, April 11th from 7 to 9 pm, live on Facebook.
Drawn from ancient sources, this is the most dramatic liturgy of the year. We hear the timeless prophecies of hope. We renew baptismal vows by candlelight. We sing the first "Alleluia" of Easter. Our rooms are flooded with light as the Eucharist is celebrated.  🙂
To view the service, simply click this link or log in to Trinity's Facebook page at www.facebook.com/trinitybuckinghamchurch, and you will see be able to see the post!
The service will remain on the Facebook page for you to view throughout this week.
Please click on the image above to view the service leaflet in order to follow along during the liturgy or to print out ahead of time.