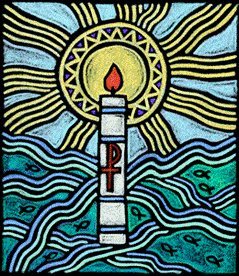 You are invited to join in the sacred DRAMA AND JOY of the Great Vigil of Easter, Saturday evening, April 11th from 7 to 9 pm with a reception following. This year, the Easter Vigil will take place at Holy Nativity, Wrightstown Church, located at 749 Durham Road, Wrightstown, PA.
Drawn from ancient sources, this is the most dramatic liturgy of the year. We hear the timeless prophecies of hope. We renew baptismal vows by candlelight. We sing the first "Alleluia" of Easter. The church is flooded with light as the Eucharist is celebrated. 🙂
Bring your own bells and noisemakers! A festive reception follows with Alleluia Cake!