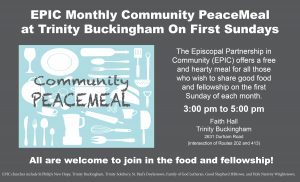 Trinity's Community Peacemeals will be postponed due to COVID-19 gathering restrictions, and will resume again when the crisis is over. Blessings to all — stay safe and stay well!
All are welcome!
The Episcopal Partnership in Community (EPIC), a consortium of local Bucks County Episcopal churches hosts monthly Community PeaceMeals from 3:00 pm to 5:00 pm in Faith Hall at Trinity Buckingham Church in Buckingham, PA.
The local community is welcome. No RSVP or registration is necessary.
"Community PeaceMeal is a free and hearty meal for anyone who wishes to share good food and fellowship on the first Sunday of each month," said the Rev. Dr. Nancy Burton Dilliplane, rector of Trinity Buckingham Church. "These happy and life-giving gatherings are a way for our churches and our local communities to be able to pause, take a breath and relax for awhile in each other's good company over good, homemade food."
EPIC is a consortium of local Bucks County Episcopal churches including St.Philip's New Hope, Trinity Buckingham, Trinity Solebury, St. Paul's Doylestown, Family of God Lutheran, Good Shepherd, Hilltown, and Holy Nativity Wrightstown.
Trinity Buckingham Church is located at the intersection of Routes 202 and 413 in Buckingham, PA. There is ample parking located just behind the church off Route 413. For more information, please call 215.794.7921.