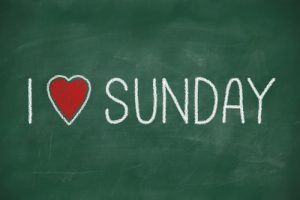 Trinity Sunday School will be postponed due to COVID-19 restrictions, and will resume again when the crisis is over!
Trinity's 10 a.m. Sunday School is fun and restorative for children and parents alike: Children from age 3 to 12 enjoy a snack, a Bible story, an activity and a prayer, while parents enjoy a little child-free time for coffee and supporting one another in raising children and living faithfully in today's world.
Toddlers can stay with their parents or enjoy time in our staffed nursery room.
Godly Play Storytelling
With the advent of the Children of All Ages 9:15 service several years ago, Trinity Buckingham has a brand new cohort of families with young children. We are entering a new era of Family and Children's Ministries with new Family Ministries/Godly Play coordinator Liz Oliver helping Trinity to chart some new territory.
A 40-year veteran of Children and Family Ministries at several Episcopal parishes in New York, New Jersey and Pennsylvania, Liz has recently completed training to become a certified Godly Play story teller.
The Godly Play Sacred Stories, Parables, and Liturgical Action stories will comprise much of the one-room school house Sunday School program to begin this fall on Sundays from 10 am to 10:45.
Sunday Suppers & Pajama Vespers
We also look forward to holding Sunday Suppers and Pajama Vespers to introduce each new season of the church year, starting this Advent. More information will be available shortly!
Look What's Happening!
September 15 – Introductions, Registration, and Ice Cream Social
September 22 – The Story of Creation
September 29 – The Story of Noah
October 6 – St Francis and Pet Blessing
October 13 – (no Mrs. Oliver)  Abraham
October 20 – (no Mrs. Oliver) Jacob
October 29 – NO CLASS – one service
November 3 – All Saints celebration – Saint Kevin
November 10 – Abraham
November 17 – David
November 24 – Daniel
December 1 – (Thanksgiving weekend) – Foods of the Bible
December 8 – PAJAMA VESPERS Pot luck meal followed by family Advent activities and ending in a candlelight vesper service in the sanctuary
December 15 – Balaam's Ass
December 22 – Nativity and intro to the four evangelists
December 24 – Children's Service for Christmas Eve
December 25 – Christmas Day Service
December 29 – NO CLASS – Ceremony of Lessons and Carols
January 5 – Epiphany Pageant  -NO CLASS – one service
January 12 – PAJAMA VESPERS – Pot luck supper, Lesson on Baptism, and Candlelight Vespers
January 19 – The Magi
January 26 – NO CLASS – Annual Meeting
February 2 – Calling the Disciples (Snow date for Annual Meeting)
February  9 – Mrs. Oliver away in Egypt – Make Valentines for Shut Ins?
February 16 – NO CLASS – President's Day Weekend
February 23 – John
February 25 – Shrove Tuesday Pancake Supper
February 26 – Ash Wednesday
March 1 – PAJAMA VESPERS – Pot Luck Supper, Family Lenten Activity, Introduction to our Heifer Project service for Lent, Candlelight Vespers
March 8 – Parable of the Sower
March 15 – Parable of the Prodigal Son
March 22 – Parable of the Good Shepherd
March 29 – Parable of the Bridesmaids
April 5 – Palm Sunday The Passion and a Party
April 12 – Easter Sunday NO CLASS
April 19 – PAJAMA VESPERS – Pot Luck Supper, Introduction to Eastertide, and Candlelight Vespers
April 26 –Moses and the Burning Bush
May 3 – Moses and the Plagues
May 10 – Moses and the Ten Commandments
May 17 – The Peaceable Kingdom