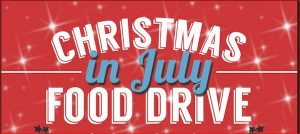 While numerous groups and churches provide food for holiday meals for Thanksgiving and Christmas, in the late summer many people are on vacation and food pantry shelves are bare. So Trinity offers a Summer Food Drive to help replenish those pantry shelves.
This is an astonishing statistic: In 2018, there were 70,000 visits to food pantries in Bucks County. Food insecurity is real to our most vulnerable populations in our community — the young and the old. 
Please donate shelf stable food and help replenish the empty shelves at our local food pantries.
Food can be dropped by anytime in baskets located around the Church through the first week of August at Sunday services, or during Church Office hours during the week, Monday through Thursday, 10 am to 2 pm.
Any shelf-stable food is welcome — look for super sales (and store brands are okay)!
Thank you for considering this important all-parish, all-community ministry.