Seventh Week of Easter

Here is the Rev. Nancy Dilliplane's gospel reflection on the challenges and the assurance the Ascension Day gospel might bring to us.
Please click the image above  to open the Seventh Week of Easter gospel reflection.
Sixth Week of Easter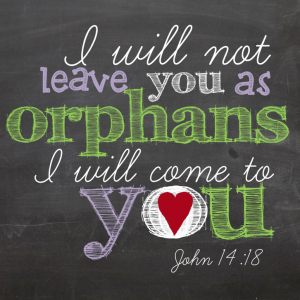 Deacon Matthew Simpson's reflections on his personal experience as a nurse during this pandemic and on the power of Jesus' command to "Love one another."
Fifth Week of Easter

This Mother's Day Sunday Gospel Reflection is on Julian of Norwich's life and teachings of the God's nourishing and sustaining love for us.
Fourth Week of Easter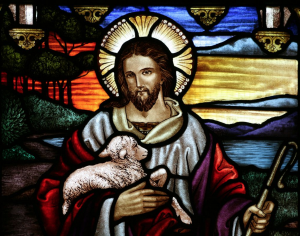 This Sunday's Gospel Reflection is The Parable of the Good Shepherd Godly Play Story. You are invited to sink into the profound quiet moments throughout the story, full of wonder, to consider what meaning the story might hold for you in your life.
Where are you in this Godly Play Story?
Third Week of Easter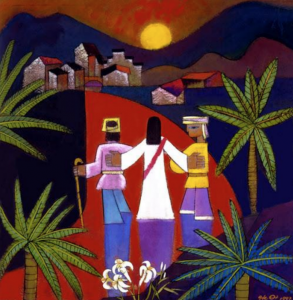 Here is something new and wonderful —
In her sermon during Trinity's Sunday worship service this week, the Rev. Nancy Dilliplane introduced us to the practice of Visio Divina, the thoughtful contemplation of a painting, a photo, a work of art, or really anything visual that invites God to speak to us in a deeper way.
"Visio" is very meaningful and exciting and fun for all ages.
Palm Sunday Sermon 2020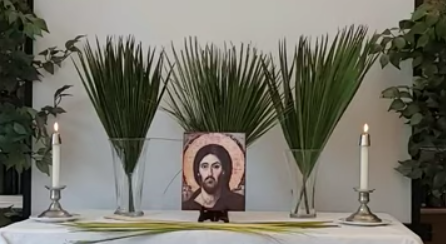 "Why this huge turnaround? … How is it that glad Hosannas turned into angry cries for death? …. Why?
In no small part, I think it's because Jesus didn't live up to all of their hopeful expectations of him. The crowds expected one kind of Messiah, and they got another kind.
They didn't' get someone who came in the name and power of God to rescue them. They got someone who came in the name of the power of God to be WITH them.
I'm struck today with how similar this Palm Sunday to that one. This year we too are living in occupied territory. We too are not in control of our land, our lives or our livelihoods. Our enemy is not Rome. It's Covid-19 …."