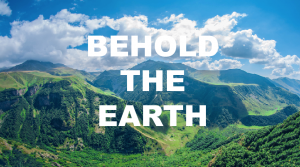 Trinity's Wednesday Evening Lent Series will be postponed due to COVID-19 restrictions, and will resume again when the crisis is over!
Trinity Buckingham will host its 9th Wednesday Evening Lent Series led by Dr. Steven W. Mann, who will show and discuss four environmental documentaries over the course of the five-week series.  They will include — Behold The Earth, A Plastic Ocean, EO Wilson: Of Ant and Men, and Love Thy Nature.
Come join us to view and discuss these sobering yet inspiring documentaries. Details of the documentaries are as follows:
Behold the Earth – Could a Journey into Creation Determine the Future of the Church?  This visually beautiful and music-rich documentary explores America's divorce from nature, science, and the outdoors among some American Christian communities with several leading Christian creation-care activists.
–   The PBS documentary E.O. Wilson – Of Ants and Men.  "We are still part of earth's fauna and flora and bound to it by emotion, physiology, and deep history" (E.O. Wilson).  Of Ants and Men chronicles this Alabama born Harvard biologist and Pulitzer Prize-winning author's lifelong love for the natural world.
–   A Plastic Ocean, was filmed around the world over four years, documenting the global effects of plastic pollution and introducing workable technology and policy solutions that can, if implemented in time, change things for the better.
–   Love Thy Nature. This film is narrated by the world famous actor Liam Neeson and is a deeply spiritual and contemplative meditation on our human connections to the natural world. Discussion will be moderated by Dr. Steven W. Mann.
Dates:  March 4, 11, 18, 25, and April 1, 2020
Time:  7pm-8:30pm
Meeting In:  Reed Chapel (across from the Church Office)
Dr. Mann received a Ph.D. in Pharmaceutical Science from the University of Rhode Island and is a graduate of Princeton Theological Seminary's Science for Ministry Institute, a three-year program funded by Templeton Foundation to "further the development of a more informed approach to the tensions between science and faith." Dr. Mann is a member of Trinity Buckingham Church.
Trinity Buckingham Church is located at 2631 Durham Road, at the intersection of Routes 202 and 413.
For information, visit trinitybuckingham.org or call 215.794.7921.