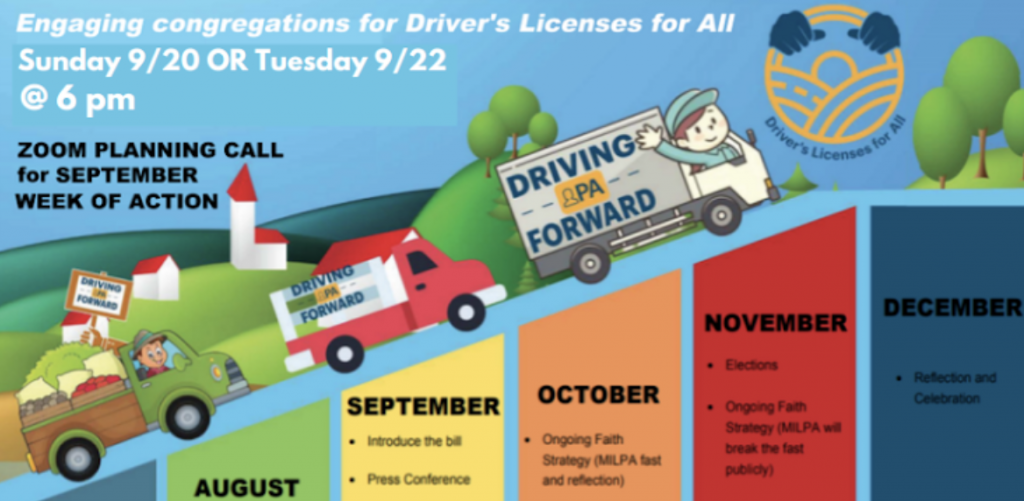 Immigrant Rights Action/Grupo de Acción of Doylestown is inviting Bucks County churches and synagogues to participate in a statewide Week of Action Sept 21 – 25 for Driver's Licenses for All Pennsylvanians.  Please click the image above if you are interested in learning more through one of two upcoming Zoom calls.
As of September 5, thirty congregations are participating (see below)  
IRAGdA is an active member of Driving PA Forward, a statewide coalition of advocacy, faith, business, agricultural, labor and community organizations working together to support legislation regarding accessibility of a standard driver's license with strict privacy and data protections for all Pennsylvanians regardless of immigration status.
IRAGdA will host an informative Zoom call for those who want to learn more about the driver's license issue and the statewide campaign  The opportunity will be offered on two dates to maximize accessibility:  Sunday, Sept 20 and Tuesday, Sept 22.  Individuals who are interested but can't make either call can also sign up to receive Week of Action information directly!  
Interested Congregations As of Sept 5, 2020: 
Abington Friends Meeting
Bharathiya Temple 
Buckingham Friends Meeting
BuxMont UU Fellowship
Carversville UCC
Casa del Pueblo Latino Ministry/St Paul's United Methodist Church
Congregation Beth El of Bucks County
Covenant Church
Deep Run East Mennonite ESL
Doylestown Friends Meeting
Doylestown United Methodist Church
Gwynedd Friends Meeting
Iglesia de Cristo La Gloria Postrera 
Iglesia Mizpa
Linaje Escogido
Living Hope Community Church
Ohev Shalom of Bucks County
Our Lady of Guadalupe Parish
Our Lady of Mt. Carmel Parish 
Plumstead Friends Meeting
Plymouth Monthly Meeting
Saint Paul's Episcopal
Salem United Church of Christ
Shir Ami Synagogue
Southampton Friends Meeting
St Andrew Parish
St. Paul's Episcopal
Temple Judea of Bucks County
Trinity Episcopal Church Buckingham
Wrightstown Friends Meeting