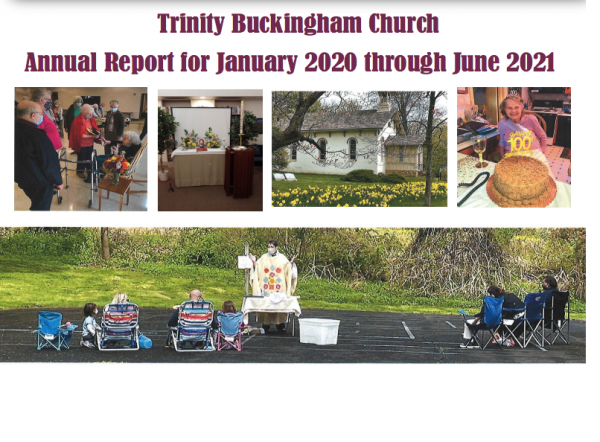 Trinity's 2021 Annual Meeting is scheduled for Sunday, June 6th, beginning with worship at 10:00 am.  (Note the service time change from 9 am to 10 am on this Sunday)!
Please click the Annual Report image above to open this year's Annual Report. (The Annual Report includes the Rev. Nancy Dilliplane's Sunday homily).
Below please find the Annual Meeting Agenda, our Vestry candidate biographies, a parish-wide survey form, and Trinity's financial summary.
Agenda —
Trinity Episcopal Church, Buckingham PA Annual Meeting June 6, 2021
I. Call to order (Marty Gillen)
II. Hymn: God is Here
III. Prayer & Listening Hearts guidelines (Nancy Dilliplane)
Prayer for the Parish: Almighty and ever-living God, source of all wisdom and understanding, be present with those who take counsel in Trinity Buckingham for the renewal and mission of your Church. Teach us in all things to seek first your honor and glory. Guide us to perceive what is right, and grant us both the courage to pursue it and the grace to accomplish it; through Jesus Christ our Lord. Amen.
Guidelines for being with one another today:
1. Take time to become settled in God's presence.
2. Listen to others with your entire self (senses, feelings, intuition, imagination, and rational faculties).
3. Do not interrupt.
4. Pause between speakers to absorb what has been said.
5. Do not formulate what you want to say while someone else is speaking.
6. Speak for yourself only, expressing your own thoughts and feelings, referring to your own experiences.
7. Avoid being hypothetical. Steer away from broad generalizations.
8. Do not challenge what others say.
9. Listen to the group as a whole — to those who have not spoken aloud as well as to those who have.
10. Generally, leave space for anyone who may want to speak a first time before speaking a second time yourself.
11. Hold your desires and opinions — even your convictions — lightly.
(From Grounded in God, Revised Edition, Farnham, Hall, and McLean, Morehouse Publishing)
IV. Recognition of outgoing vestry members: Bob Kinney, Mary-jo May (resigned), Bonnie McCabe, Joe McClean, Don O'Hara (Marty Gillen & Nancy Dilliplane)
V. Appointment of Judges of Election: if required
VI. Elections: (Marty Gillen)
Vestry Class of 2024: (3 year term) Janet Zimmerman De Caprio Sara Swidorski Lynda Vesely Natalie Welker-Marx
Vestry Class of 2022: (6 mo. Term) Barbara Kroberger filling Mary-jo May's unexpired term
Continuing Vestry Members Class of 2022: Marty Gillen, Paul Harar*, Peter Oliver
Vestry Class of 2023: Jerry LaSala, RoseMarie Proctor, JoAnne Welker, Kevin Wielehowski * second term, ineligible for re-election
Deputies to Diocesan Convention: Dom DeCaprio, Janet DeCaprio, Joanne Welker
Alternate: Natalie Welker-Marx
VII. Financial Update and Review (Marty Gillen, Peter Oliver, Ray Perisho)
VIII. Parish Conversation (Members of the Vestry and Nancy) IX. Motion to adjourn
X. Closing Hymn: The Church of Christ in Every Age
Parish Survey Form —
Please print, fill out, and mail this survey to
Trinity Buckingham Church, Box 387, Buckingham, PA 18912
You can click the survey's Page One image here below to open the full two-page Parish Survey Form PDF:
)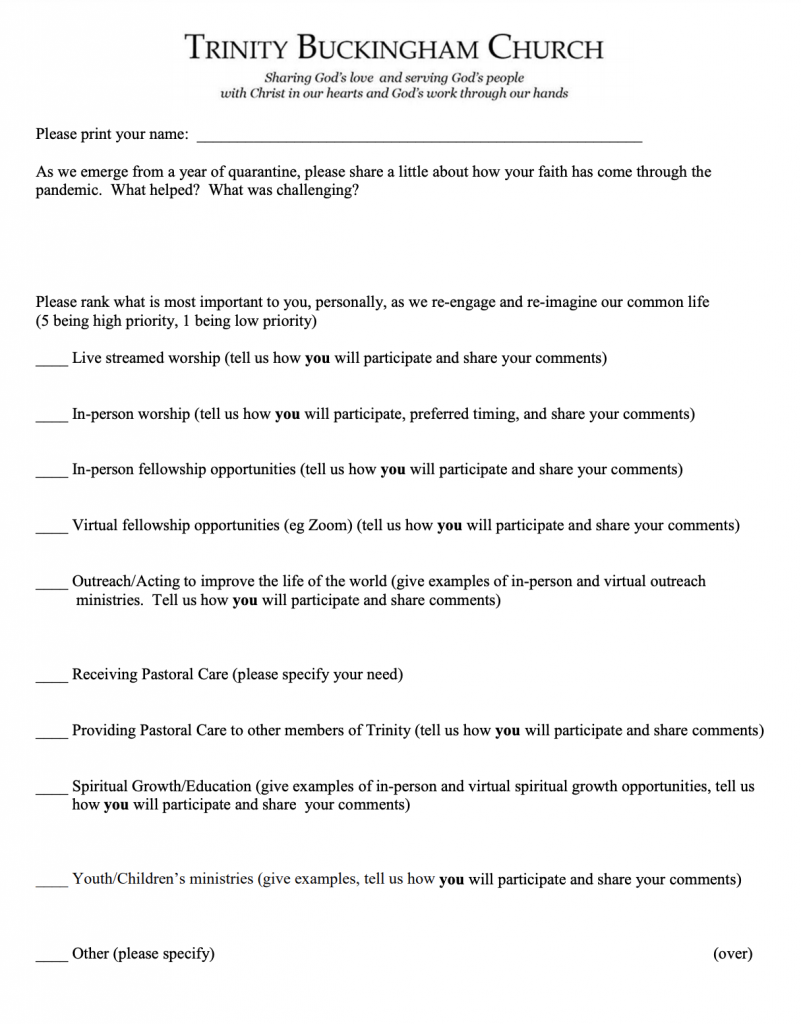 Vestry Candidate Biographies —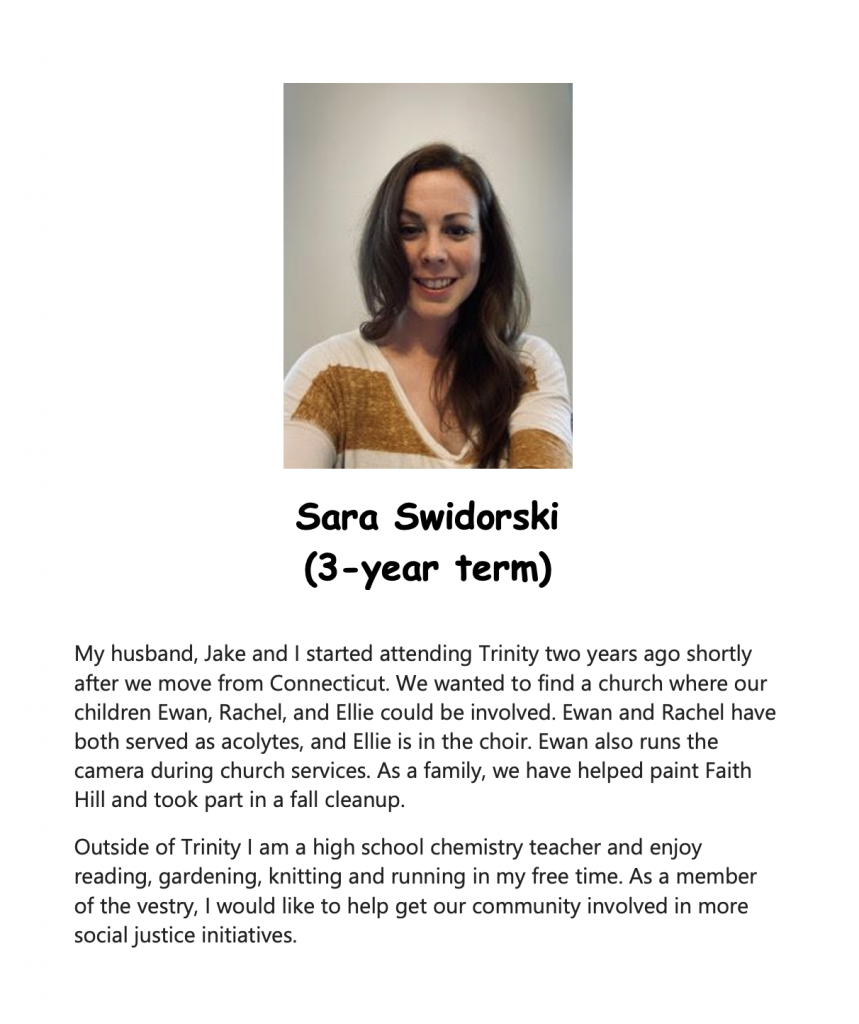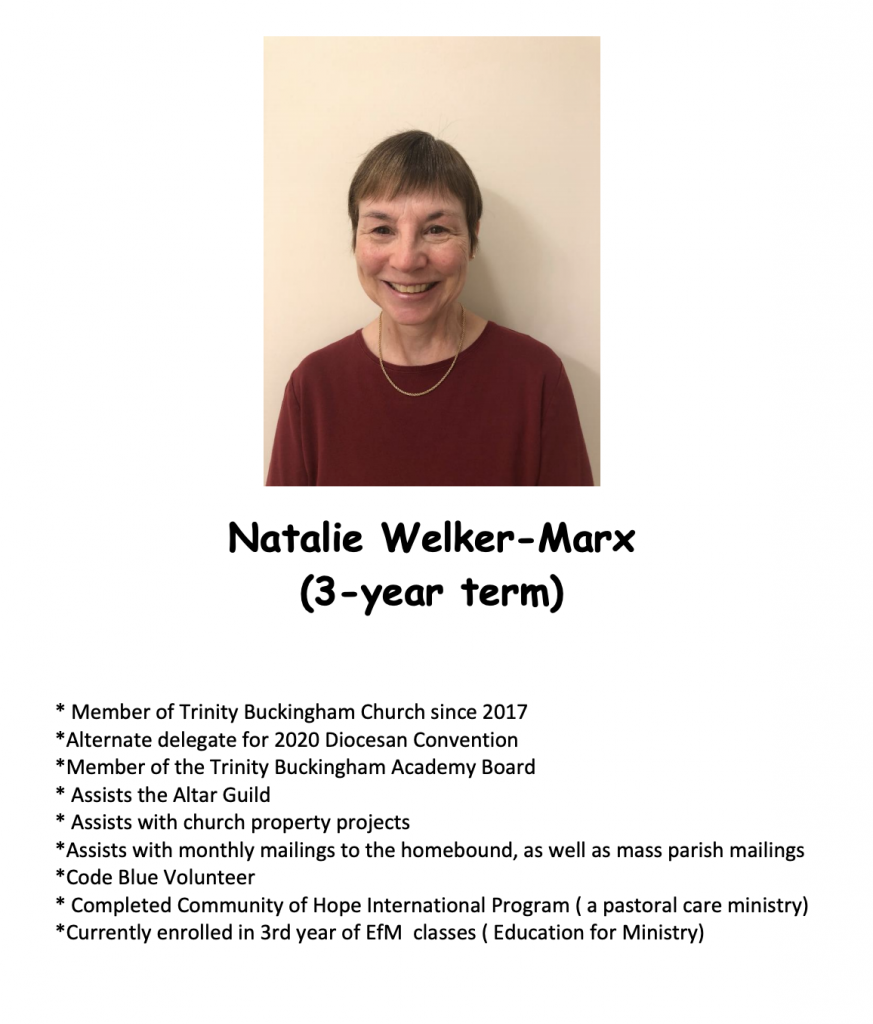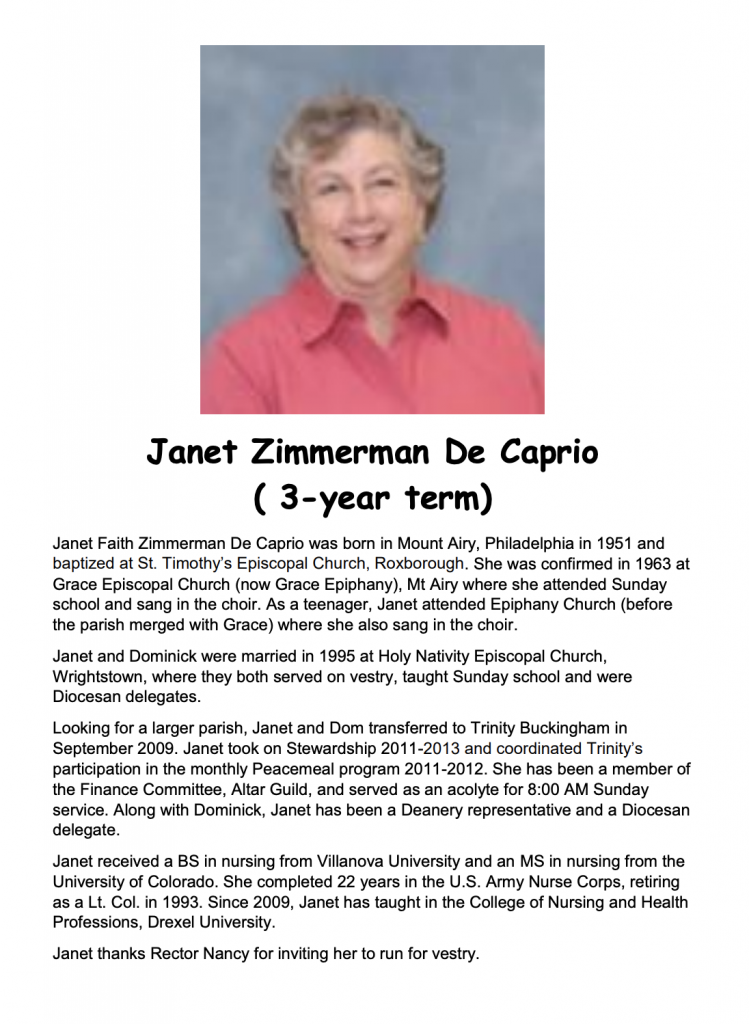 Trinity's Financial Summary — TBA