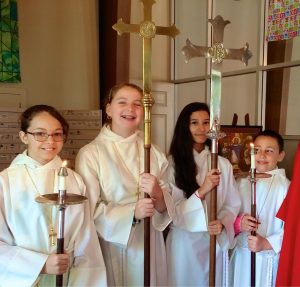 Welcome!
Trinity offers socially-distanced in-person Sunday worship at 9 AM* for Traditional Sunday Worship in the Main Sanctuary and at 10 AM** for the Children of All Ages Worship Service outside in the far corner of the upper parking lot.
The 9 AM service can also be viewed through Trinity's live stream on the website's homepage and through Facebook Live on Trinity's Facebook page. 
*The 9 AM service includes organ music and our various choirs, including youth and adult bell choirs.
** The 10 AM Children of All Ages Service is a service oriented particularly to young people and to the young at heart. This service includes a shorter Gospel reading, a children's homily message, a favorite song and Communion around the altar.
The Diocese of Pennsylvania's (DIOPA) website can be reached by clicking here and the DIOPA Facebook page can be reached by clicking here.
Please know that no matter where you are in your life journey, you are welcome here at Trinity Buckingham!  We worship God using liturgy from the

Book of Common Prayer

, celebrating Holy Communion at every service.
CENTERING PRAYER and MEDITATION is offered Tuesdays and Thursdays from 8:00 – 8:30 a.m. through Facebook live on Trinity's Facebook page. 
During Lent, there is a Soup and Study series, followed by Evening Prayer from the Book of Common Prayer.