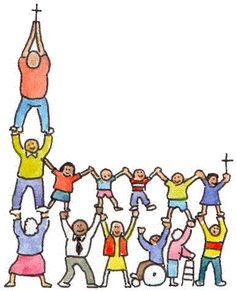 Beginning on March 28, Trinity's much-loved Children of All Ages service will resume in the parking lot (weather permitting) in the area near the labyrinth. We will continue to wear masks and keep distance between households.
The Children of All Ages service liturgy is particularly oriented toward young people, but is designed for participation by both children and adults alike. (Some adults without children come on their own)!  (For more information, please refer to Pastor Nancy's letter below).
It includes a shorter gospel reading, a favorite song of the week, a short homily message and Communion around the altar with homemade bread.
Many parents are familiar with not only the challenge of getting to church on Sunday, but with the challenge of keeping restless little ones still, or of enduring the impatience of teenagers longing to get on with the rest of their day.  In answer to these challenges, Trinity Buckingham Church usually offers Children of All Ages Church, a relaxed and casual shorter service held on Sunday mornings from 9:15 to 9:45 a.m. (and at 9:30 a.m. in the summer from June 23rd to September 1st).
"People are pulled in so many different directions these days — especially those with children and teens, and trying to set aside time during each week to sing, pray and give thanks together can seem overwhelming," said the Rev. Nancy Burton Dilliplane, rector of Trinity Buckingham Church. "Trinity's Church for Children of All Ages is a meaning-packed half-hour designed to refresh the hearts of weary people and speak to their complex lives. Even a short pause before the next busy week can help us all remember who and whose we are, and to say please and thank you for our lives."
Trinity Buckingham Church is located at 2631 Durham Road in Buckingham, PA, at the intersection of Routes 202 and 413. There is ample parking behind the church.
Please join us!
A Letter From the Rev. Nancy Dilliplane
Dear Trinity,                                                                                 March 3, 2021
With the approval of Bishop Gutierrez, your vestry and I have decided to resume limited in-person Sunday worship beginning on March 14, 2021.  We will observe the same health safety guidelines that we put in place in the fall.
There will be one service on Sunday mornings at 9 AM in the main sanctuary
–         Attendance is limited to 25 people. Please email or call the church office by Thursday at noon to reserve your place for the following Sunday
–         There will be Holy Communion (bread only)
–         There will be music, but no congregational singing
–         Attendees will need to wear masks
–         We will maintain 6 feet of space between each household group
Beginning on March 28, the Children of All Ages service will resume in the parking lot (weather permitting) in the area near the labyrinth. We will continue to wear masks and keep distance between households.
While I, like you, long for a return to in-person worship and fellowship, I want to be clear that our re-opening is not a return to our pre-COVID routines. Nobody can be sure of COVID's future path. Despite our weariness, and the increasing numbers of adults who have received vaccines, the pandemic is a long way from over. 
The New York Times reported just this morning that the number of confirmed new cases has stopped falling in the past two weeks, both in the U.S. and worldwide, perhaps because of the spread of highly contagious new virus variants. In the U.S., the average daily number of cases is higher than at almost any point last summer. 
For these reasons (for now), we will continue to wear masks, keep distance, refrain from congregational singing, and limit how we gather for fellowship. I am hopeful that, as more of our congregation receive vaccines, and the weather warms, we can accommodate more people at worship, and gather to share fellowship in and out of doors.
I also recognize that you may not be ready to return to in-person worship until summer, fall, or even later. The surest way to stay safe and well is still to self-isolate. Please know that we support your decision not to return at this time.
We will continue to livestream our Sunday services on our website and on Facebook, and to hold meetings and fellowship and formation groups on Zoom.
Finally, as the pastor of this intergenerational community, I would be grateful if you would let me know once you have received your vaccinations. I will feel much more confident about inviting us into the physical presence of one another when a majority of us are vaccinated. If you are willing, please let me (or Cynthia in the office) know when you and your family have received your vaccines.
If you have any questions whatsoever please don't hesitate to call or email the office, or email me directly rector@trinitybuckingham.org . I am looking forward to being mask-to-mask with you very soon.
Blessings,
Pastor Nancy
#     #     #