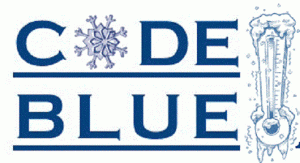 Trinity Buckingham is a Bucks County's host Code Blue site, offering shelter and food to those in need of assistance when the outside temperature is less than 26 degrees during the month of January. If you would like to assist with this all-parish ministry, either by donating food or essential items  or by assisting with offering hot meals, please contact  the Coalition to Shelter and Support the Homeless.
Doylestown Presbyterian Church, located on Church Street in Doylestown, is the County's Code Blue site during February.
Code Blue is such a huge effort, it is an All-Parish Ministry!
During January, we especially need food items for this month's visitors. Please drop off food in Faith Hall's freezer and refrigerator, using the Church office front door entrance in order to lessen traffic through the Day School.
Here are Code Blue's primary needs: (DUE TO STORAGE LIMITATIONS IN THE FAITH HALL KITCHEN, PLEASE PHONE THE CHURCH OFFICE 215.794.7921 TO CHECK ON THE CURRENT NEED, AND/OR TO LET US KNOW WHAT YOU WOULD LIKE TO CONTRIBUTE — thank you)!
Breakfast: Frozen breakfast sandwiches (e.g. ham or sausage, cheese and egg), instant oatmeal, yogurts, bananas, oranges.
Lunch: Lunch Meats, Jelly and Bread (white or light wheat), small bags of chips or pretzels, soft granola bars
Dinner: Hearty Soups, Roasted Chickens, Hams, Meatloaf, Rice, Potatoes, Salad, Rolls and Sides.  It is ideal if you can bring a complete prepared, hot meal for about 15 people, (or prepare it in our kitchen) and serve it at 7:30 pm.  Already prepared foods can also be helpful.
If you would like to be trained as a Code Blue on-site volunteer (to spend the night or drive the vans) please contact the Coalition to Shelter and Support the Homeless.