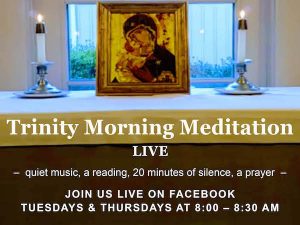 Join us "live" for this calming, full-of-Presence time of prayer and meditation — Trinity offers an opening prayer, a reading of scripture, 20 minutes of holy silence and a closing prayer. Simply log in to Trinity's Facebook page at www.facebook.com/trinitybuckinghamchurch at the allotted time, and you will see the post and click in and connect!
The practice of quiet, Centering Prayer is a simple, meditative form of prayer that, while rooted in the Christian tradition, is similar to meditation practices of other ancient spiritual faiths. The leader begins with a short spiritual reading or piece of contemplative music which leads the group into a silent, quiet time of about 20 minutes.
Many people find these few minutes of daily "centering" to be very beneficial to the rest of their day and to the deepening of their spiritual life.
We look forward to "being" with you.